A bespoke painting of a favourite place or moment in time can be a really special way of capturing a treasured memory, not to mention a lovely present (bound to tug on the heartstrings). Drop me a line if you have an idea and keep reading for the process, price guide and what people say.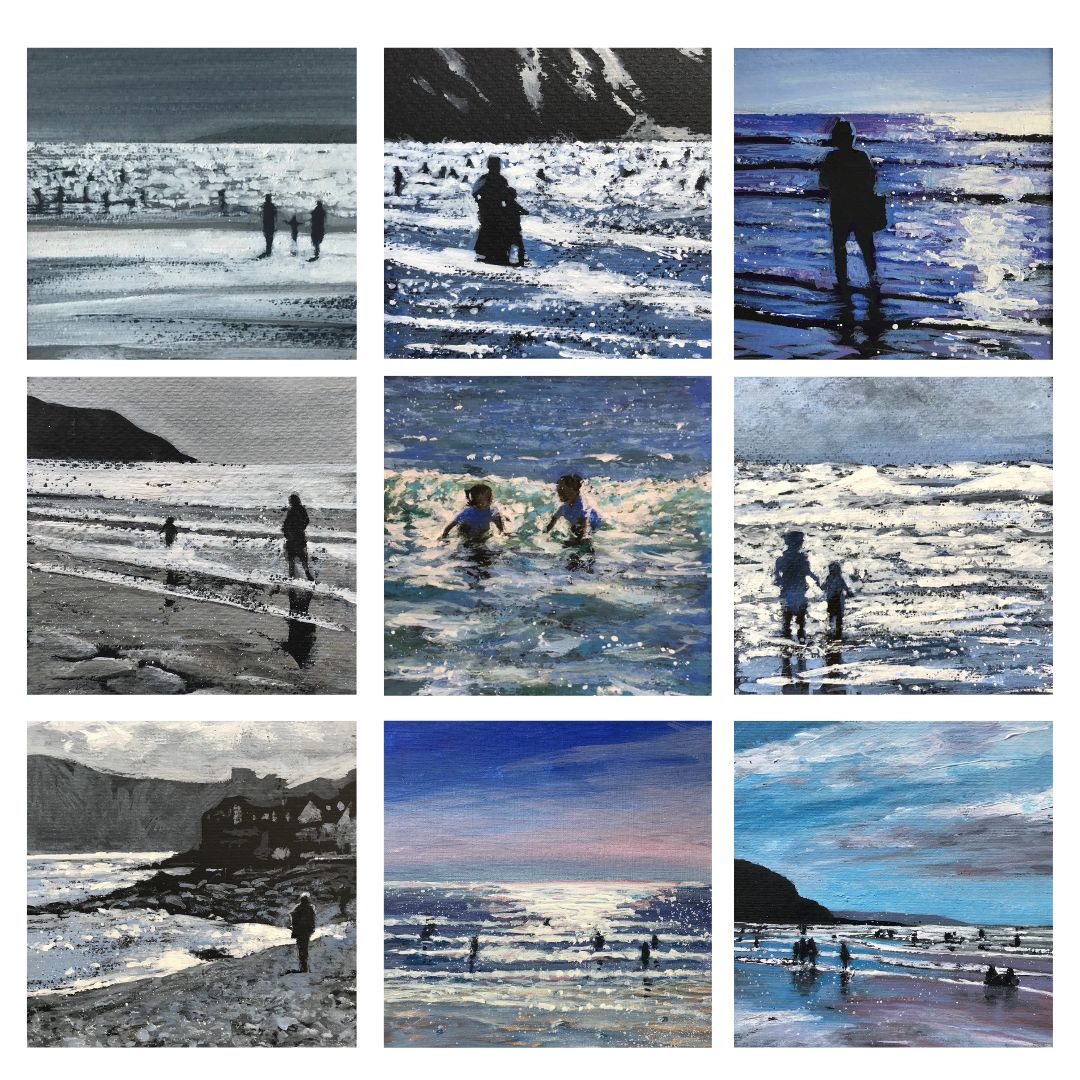 Search through your photos
Paintings from holidays can be really magical, pinpointing a time of relaxation, family togetherness or just a beautiful place in the world. Do you have any photos like this of your loved ones?
It's not just beaches, I'm happy to paint any subject matter you like, this one below is Heathrow Airport Terminal 5.
Process
First of all we have a no-obligation chat/email where you tell me your idea, inspiration, vision.... ie what you would like including the size. I work best from photos and the clearer the idea the better. We work out together how it would look and I do some small sketches to nail down the composition and the feel.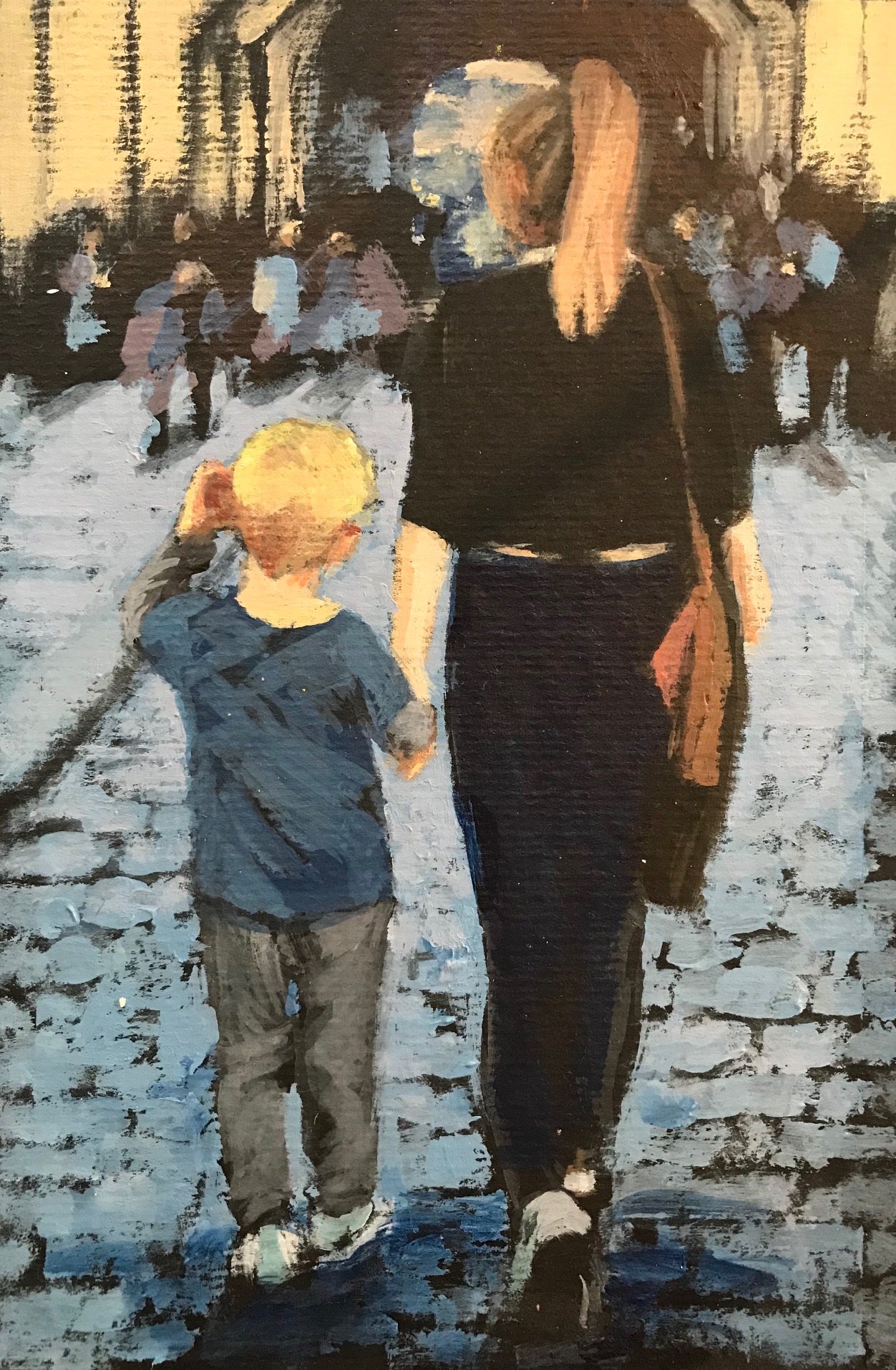 Once you know you want to go ahead, I ask for a 50% deposit before starting the painting. Usually the process takes around a month for larger work (much less for smaller pieces) and I show you the painting when I've nearly finished so you can ask for any tweaks.
So if you have a favourite photo that you've always wanted immortalised in paint, I would love to help.
See price guide below.
Email me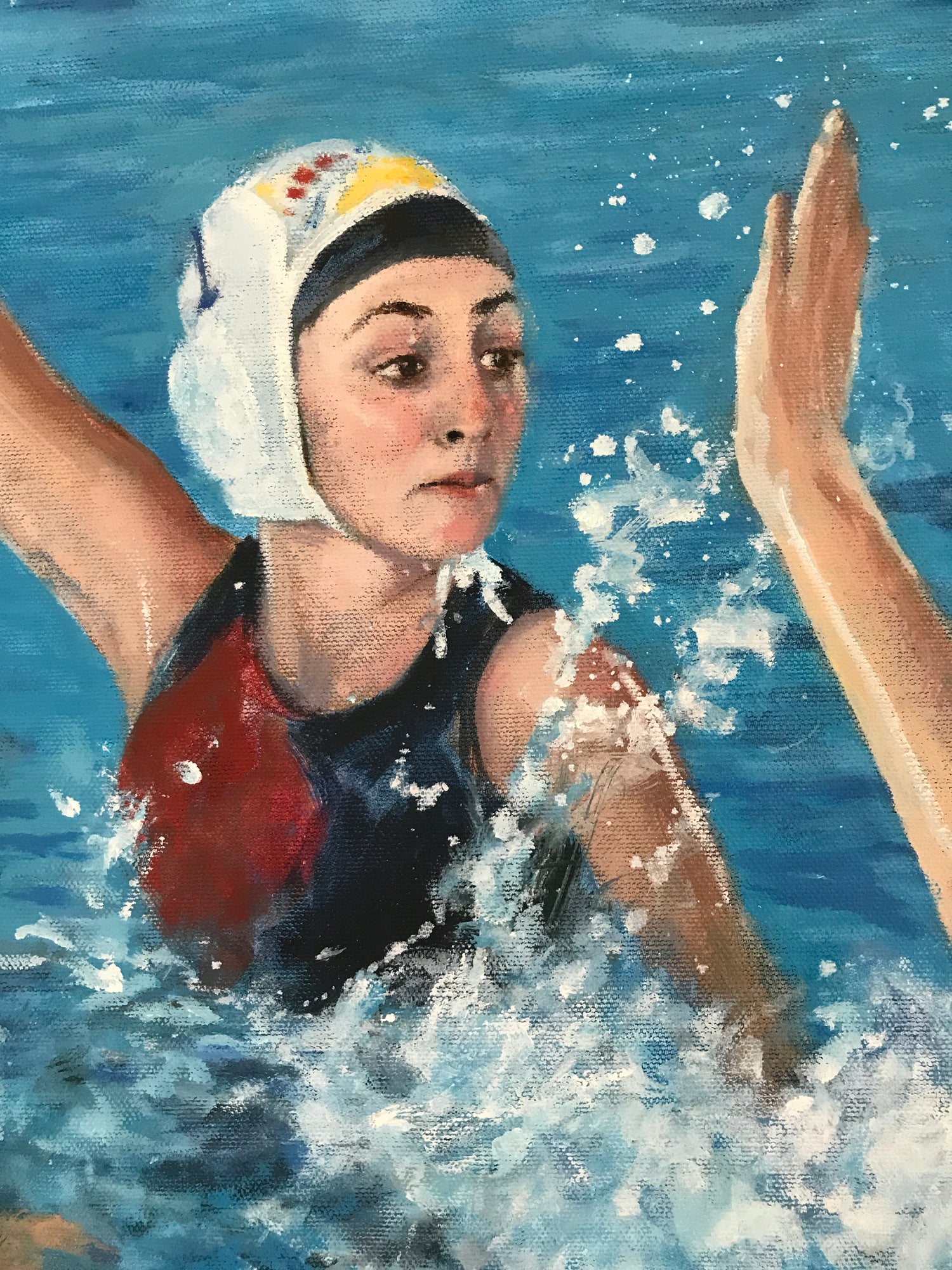 Price guide
Little paintings on paper (under A4) start from £125.
Oil on canvas or board:
Small (under 16" x 12") £250-£600
Medium (up to 20" x 30") £700 - £1,200
Large (above 20"x40") from £1,500
What people say
When I commissioned this painting I could not hope for anything better than the result! The painting is amazing in its style, the movement, everything. This was my daughter's first score in waterpolo and the portrait is soooo real. Besides, working with Sonya is super easy and she makes things happen fast and well. Perfect. Thank you Sonya, you're amazing!
Fabio, Philadelphia
---
We asked Sonya to paint a moment captured from a memorable family holiday and she has produced a beautiful piece of art that we will cherish for a long time. Throughout the process, she was willing to take the time with me to find exactly what I was looking for, and the end result shows. When you add this dedication to her obvious talent as an artist, then I am not surprised that she's as busy as she is. I would highly recommend her and will definitely be looking to re-visit her skills in the future.
Ian, Cheshire
---
I honestly can't explain how ecstatic I was to receive my painting from Sonya. I have a photo of my 2 children which I adore but was terrified of losing. Sonya painted it for me and totally captured the original photo. I now have it on my bookshelf where I can see it every day. Such a talent.
Gill, Surrey
---
My brother had kindly commissioned Sonya to paint a picture of our first family home as a wedding present for us. It was such a wonderful, original gift and so lovely to have, particularly as we moved a few years after we got married. A few years into our new home we commissioned Sonya to paint a picture of our new house, to hang alongside our original painting. They look fantastic together and will be nice to pass down to our children of the places they grew up. Sonya was fantastic throughout the process, very patient and thoughtful and made sure the light was just right before putting the finishing touches to the painting.
Janie, London
---
I had the pleasure of working with Sonya to capture the view of the Thames and Kew Bridge from our balcony a few years ago and would thoroughly recommend her to anybody thinking of commissioning a painting. I had never done anything like that before but Sonya led me through the process with a keen eye and great questioning so that the finished art truly captures the view but with the signature Sonya Vine style. If I had more space on my walls I would have more of Sonya's art.  

George, London
---
Sonya painted the view from our house as a lasting memory and a keepsake for our children. She captured it brilliantly in every aspect - so much so it's like being back in the moment. Such a talent and lovely and personable too! Highly recommended.
Annabel, East Sussex
---
All through Sonya made the process easy and answered questions and offered advice as needed. For me the picture had so many memories of a special family holiday and was to be a gift. The reaction when the gift was opened was so so special. Sonya's work is stunning and is so evocative of the moment when the original picture was taken. Now the painting has pride of place in our home. It's not just large paintings either. At the same time I asked for a smaller painting to be done and that was met with the same care. That too is in pride of place in our home.​
Mary, Yorkshire
---
I ordered a painting from Sonya. She listened to our desires, our taste.  We had a lot of discussion to arrive at the final project, I really enjoyed the process and the painting is beautiful. Thank you Sonya!
Alexia, Switzerland
---
I had been admiring Sonya's seascapes on instagram for a while and then a picture of my son in the sea popped up on my phone.I thought it would be a perfect picture for Sonya to paint. I then found another picture of my daughter in the sea and thought it would be lovely to have two paintings of my children in the sea. Sonya captures the sea and the sunset perfectly. Such a talented artist!
Vicky, Surrey
---